Gas silicate blocks - a versatile material in building and masonry walls with a minimum thickness of seams. The main purpose of gas silicate blocks construction of private low-rise buildings: private houses, cottages, industrial buildings garages.
Technology of autoclaved aerated concrete was invented by Ericsson in the 20-ies of the XIX century. The main structure blocks:
Cement

Quartz sand

Lime

Aluminium powder (it is this element in the working mixture causes air bubbles)
The production of silicate blocks is a complicated process with the use of high temperature autoclave furnaces, in which the working substance is treated at high pressure and temperature. It is vparivanie solution at a temperature of 200 degrees Celsius.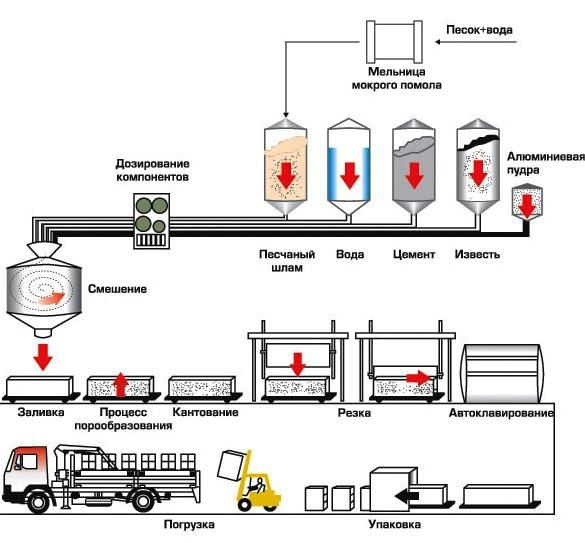 Initially, the working mixture is fed onto a conveyor and is mixed in the right proportions. After high temperature treatment, the hardened mixture is fed to the "cutting" process, which formed the blocks of standard sizes.
The density of the resulting blocks can reach 700 kg/m3. Such blocks can be used as load-bearing walls in low-rise construction. Blocks with lower density, are well suited for the construction of partitions as well as for sound and heat insulation of external walls.
The advantages of gas-silicate blocks
Light weight (less than several times the weight of the concrete). This allows you to make blocks larger, which accelerates the process of construction, the unit weight remains relatively low, allowing you to take him to the place of masonry;

High efficiency in sound insulation;

Low thermal conductivity (good at keeping heat in your home);

High frost resistance (number of cycles of freezing/thawing);

Ekologiska purity;

Accurate geometrical dimensions, which allow you to put the unit with the minimum quantity of solution;

The availability and low cost of the final product.

Water vapor permeability (due to which the walls can "breathe", which prevents the appearance of mould and fungi)
The strength and reliability of structures made of silicate is achieved by evenly placing the port inside the unit. For masonry blocks, it is recommended to use special glue that will make the interblock connection is incredibly thin and strong. Which in turn will affect the reduction of heat loss through joints.
Simultaneously with the strength of the silicate unit is sufficiently "soft" that allows you to create directly on the construction site, the blocks of the desired size, the cutting standatrnyh blocks on the right pieces.
The advantage of the small weight has a positive effect on Foundation design, because a small weight is allowed to save considerably on its design, and therefore on the cost of the Foundation.
Varieties of silicate blocks
There are several types of silicate blocks:
| | |
| --- | --- |
| | Wall - is used for laying walls and partitions. In turn are divided in shape to conventional and Cam. Regular blocks are in the shape of parallelpiped. And contain tongue-and-groove from the side grips grooves, which allows to increase the strength in the clutch. |
| | Gutter (U - shaped) - used to form monolithic lintels, concrete reinforced, the formation of zones of increased density of device supporting members for walls, mauerlatov. |